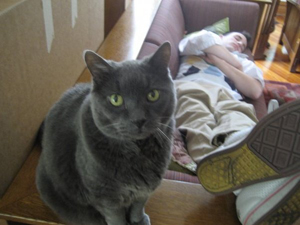 Mr. Donald Morton+ is a prolific online reading, language arts, and teaching enthusiast. Holding a B.A. in English from Northern Illinois University and an M.A. in Literature from Northeastern Illinois University, Mr. Morton has been immersed in the higher study of the reading and language arts for the last decade.
Perhaps his more practical experience was acquired during his tenure in Chicago Public Schools (continuing presently), where Mr. Morton has been teaching reading, writing, and language arts to students in areas of high need since 2005. With an unwavering pattern of student growth according to ISAT reading assessments, Mr. Morton can document the efficacy of his methods.
In the winter of 2010-2011, Mr. Morton began sharing his unique resources with teachers, parents, and students via this website: ereadingworksheets.com.  The site has received an overwhelmingly positive response from those who have managed to find it.  As the site continues to grow in popularity, Mr. Morton remains committed to improving the overall quality of the site and expanding available resources, as well as offering unrestricted access to everyone free of charge.
Also, Mr. Morton has made some online reading video games. He is working on making more of these games and making them compatible with touch screen devices as well as expanding the online practice content on this site.
You may contact Mr. Donald E. Morton at mortonteaches@gmail.com