According to CCSS Language Standard 2, students at pretty much every grade level have to learn how to capitalize. Don't worry though. It's pretty simple to teach students how to capitalize if you know the way. I'll show you the way, and then you can use my collection of worksheets, lessons, and tests to help your students master capitalization.
I made a table of contents for this page. It is below. If you already know how to teach capitalization, click on the table of contents below to skip ahead. Otherwise I suggest you review this page from top to bottom. I organized it this way for you.
How to Teach Capitalization
First, teach your students about proper nouns. Don't give them a list of 800 types of proper nouns to capitalize. Just teach them what a proper noun is and tell them that proper nouns are always capitalized.
Second, teach students that we capitalize titles. This can be titles of books or movies as well as professional titles. However, there are some words in titles that we don't capitalize. If you have younger students, explain to them that we don't capitalize "little words" like and or in. If your students are more developed, tell them that we don't capitalize articles and prepositions in titles.
Last, remind them that we capitalize the first word of every sentence and the pronoun I. They probably already know this, but it is the third case where we capitalize words.
Now that you know the plan, it's time to prepare your materials. You may be interested in using the PowerPoint lesson that I created on capitalization if you have a projector. After teaching them when to capitalize, give them some homework or classwork on capitalization. Why not give them both? Check out my free capitalization worksheets below. Does your class have access to tablets or computers? Why not assign your students online capitalization homework or classwork? They will get instant feedback and it will save you a bunch of tedious grading. I think you've got it from here, but if you have any questions or need some help, leave a comment at the bottom of the page. In review...
Teach Students to Capitalize These Words
Proper Nouns (and Brand Names)
Titles (except articles and prepositions [little words to the primary students])
First word in a sentence and the pronoun I
Spend some time teaching them about nouns, particularly proper nouns
. Teach them about capitalizing titles. Remind them to capitalize the first word in the sentence and the pronoun
I
.
And that's it. You can use my PowerPoint lesson on capitalization or show them my
video lesson on capitalization
.
Capitalization Lessons
Capitalization Lesson 1
Here is an animated slideshow to teach your students how to capitalize. It includes two practice activities and it takes about 15 minutes to execute. I tried to keep things simple, but feel free to edit this PowerPoint so that it's better leveled for your students.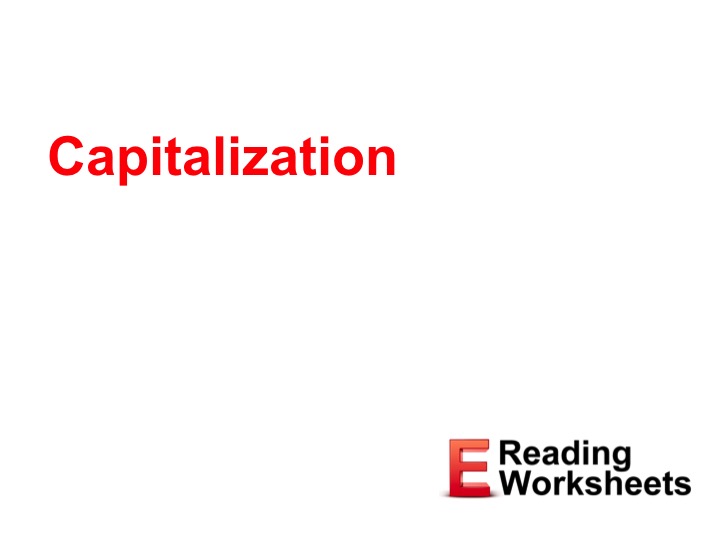 Noun Types and Capitalization Lesson 1
This is an animated PowerPoint slideshow to help teach you or your students how to distinguish noun types, common and proper nouns, and capitalization rules.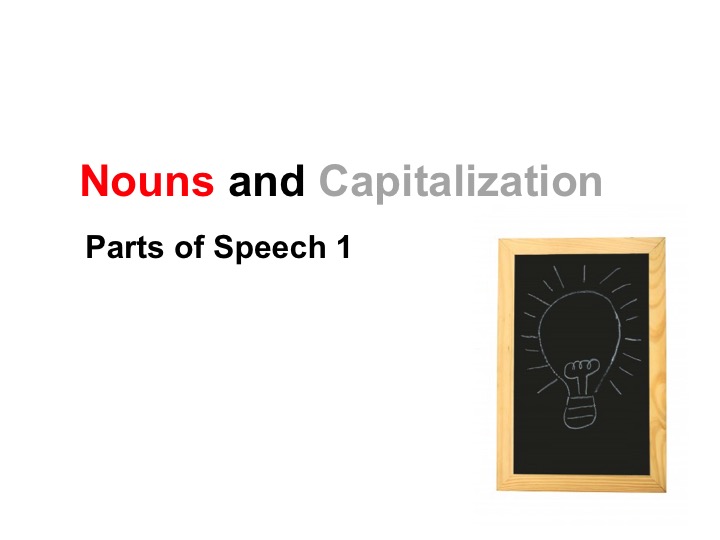 Capitalization Worksheets
Here are some capitalization worksheets. I tried to use simple examples to make these worksheets more accessible, but I also tried to make them fun to read. I think that I struck a decent balance. Feel free to download the RTF versions of these worksheets and edit them so that they are more appropriate for your students. However,
I recommend that students complete these activities online
. Grading all of those examples can be EXTREMELY tedious for teachers, and students deserve feedback in a timely manner, so why not have a computer grade them? Check out one of my
online capitalization activities here
. They are free. Students can print, save, or email their results as a PDF file or even post their scores to Facebook. The online or Ereading Worksheets version of each activity is the bottom link. I think that you are going to love what I made for you.
Capitalization Worksheet 1
Here is a fun capitalization worksheet. Students read 15 fun sentences themed around books and the act of reading. All of the sentences are written in lower case letters. Students will identify the words that need to be capitalized and highlight or circle them. Then they will complete a number of capitalization related tasks.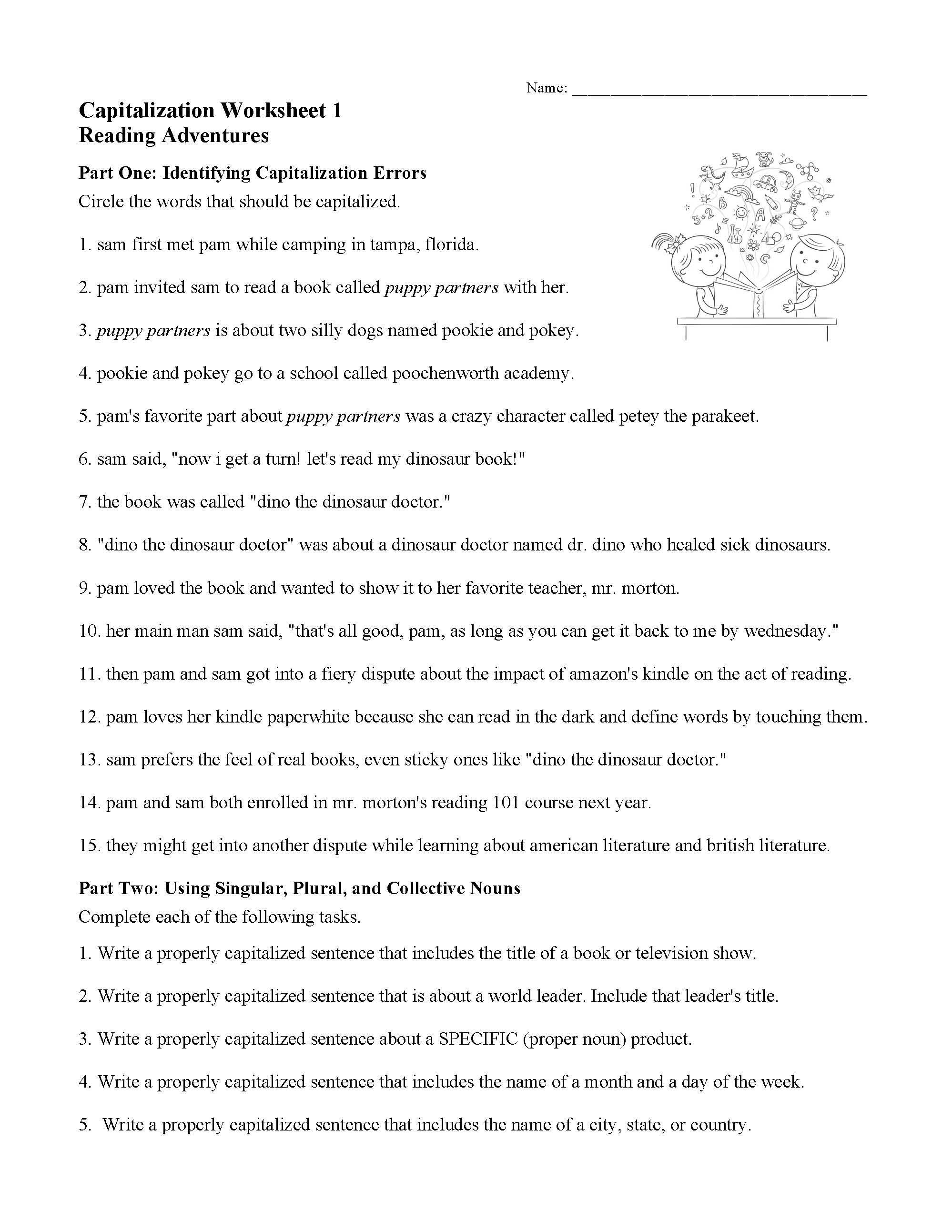 Capitalization Worksheet 2
Here's another fun capitalization worksheet. This time it's themed around pirates, and it's a lot of fun. Students identify the capitalization errors in 15 sentences. Then they write their own sentences in which they practice the rules of capitalization.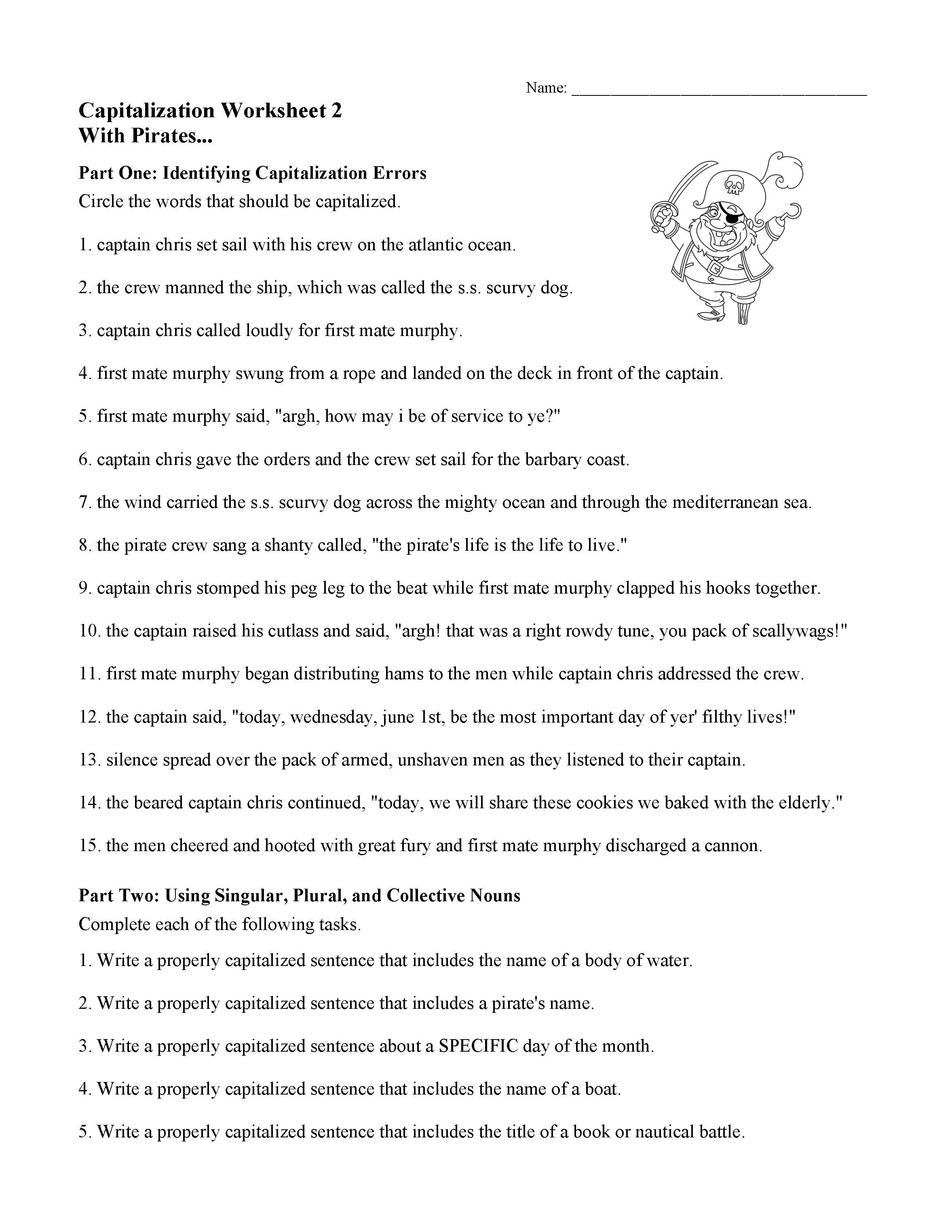 Capitalization Worksheet 3
Here's one more capitalization worksheet to help students reach mastery. This one is themed around space aliens and has a lot of fun little tricks written into it. After this one, your students should be ready for a test.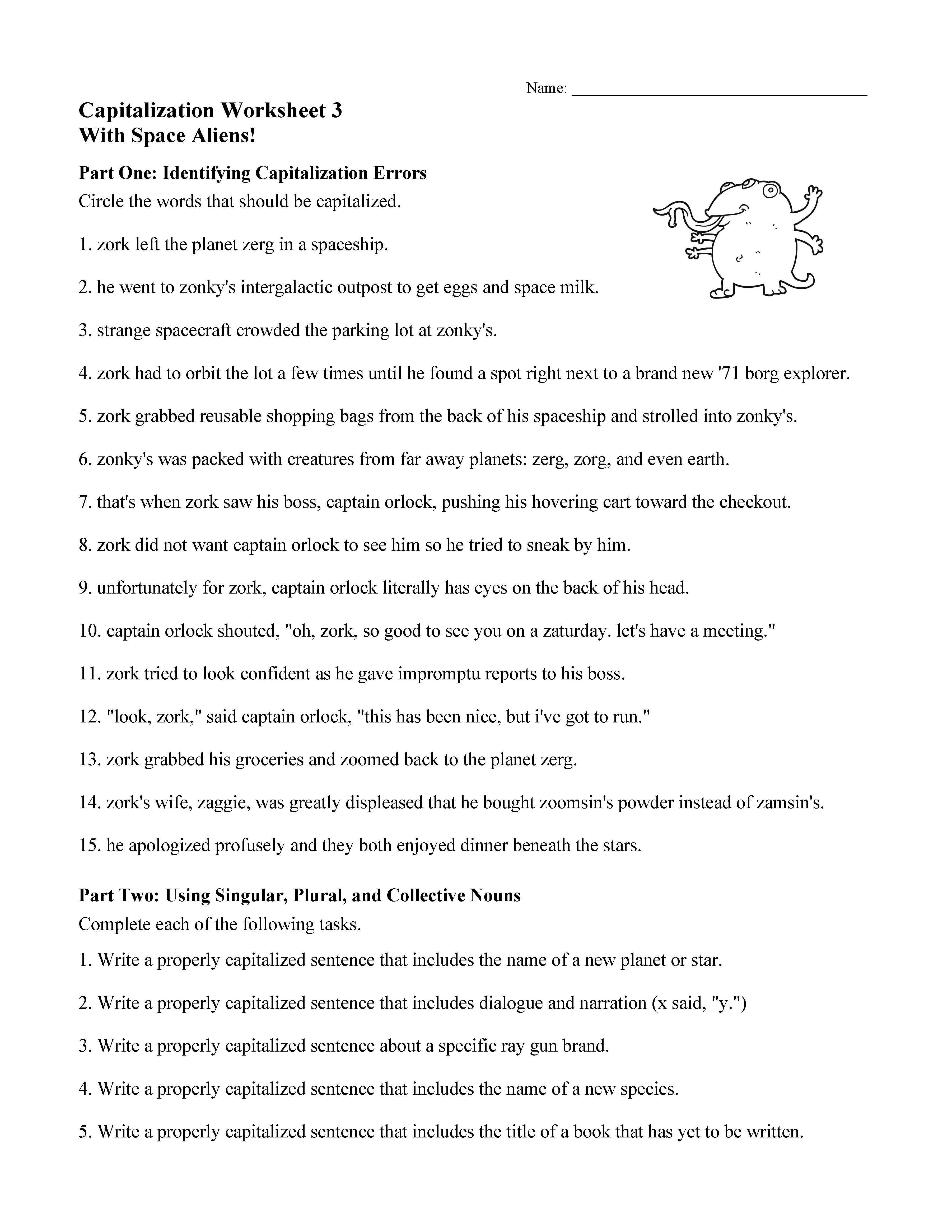 Common and Proper Nouns and Capitalization Worksheet
Here's another capitalization worksheet to help students reach mastery. This one is themed around space aliens and has a lot of fun little tricks written into it. After this one, your students should be ready for a test.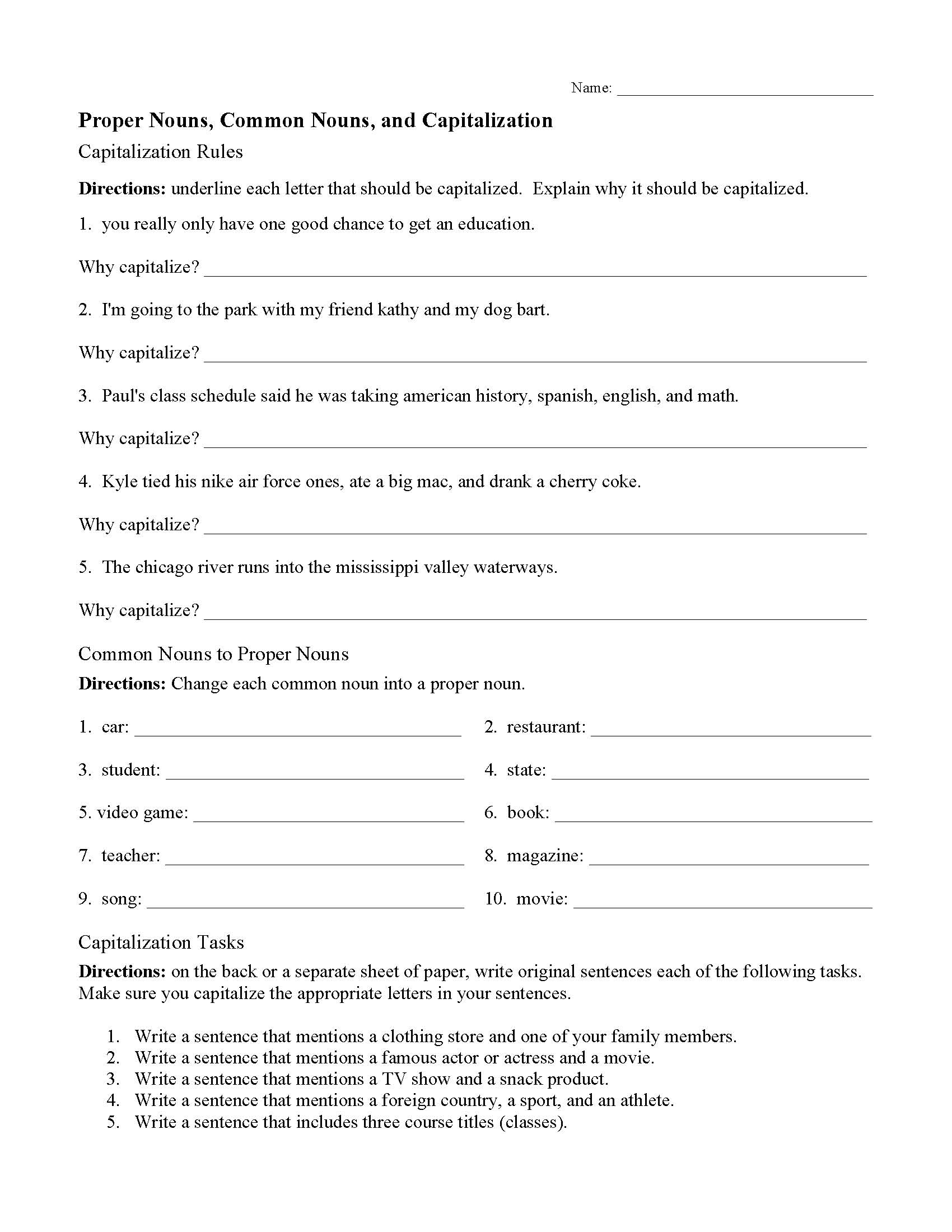 Capitalization Practice Worksheet
Here's yet another capitalization worksheet to help students reach mastery. Students will circle the capitalization errors and add end marks to the sentences. Then they will rewrite sentences, correct capitalization errors, and add end marks. What a blast!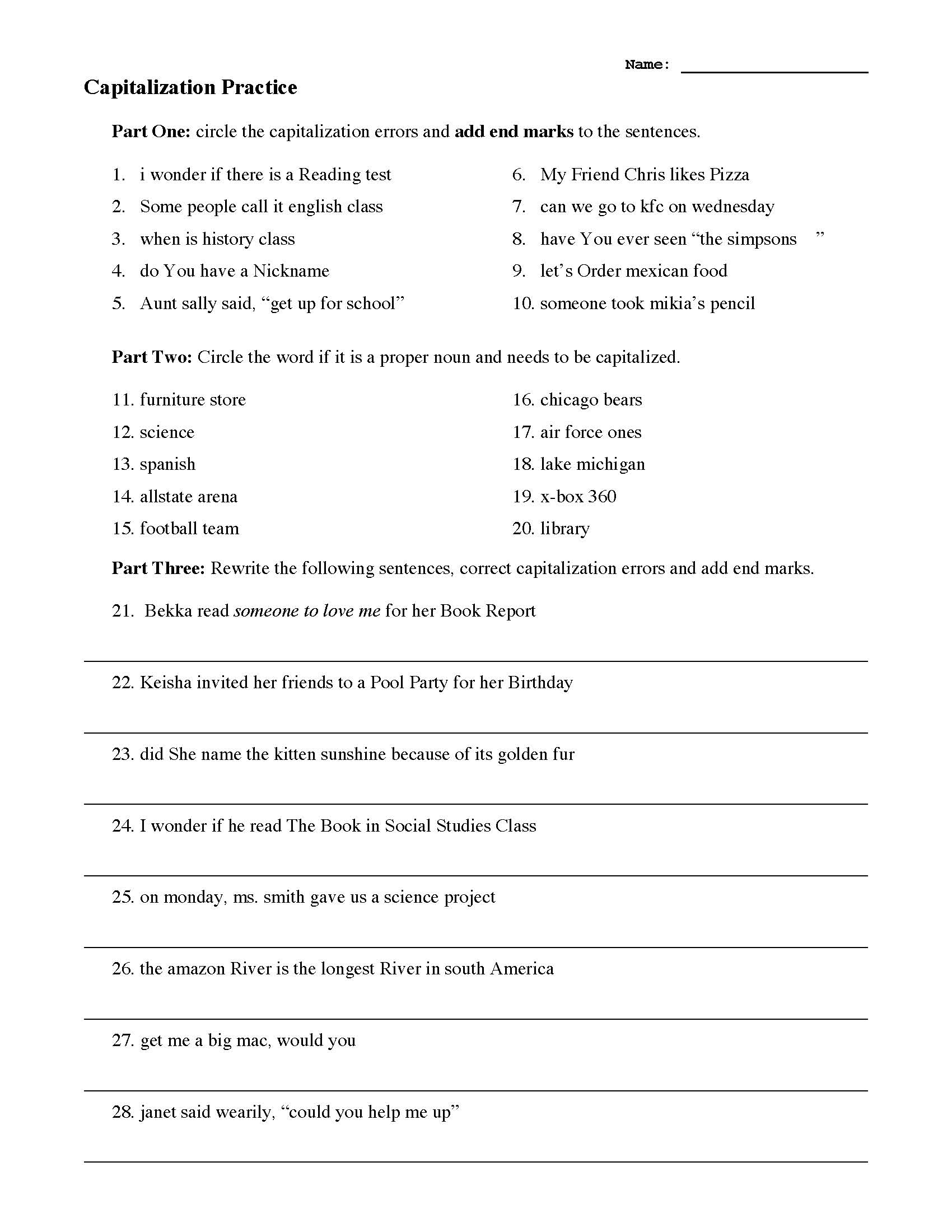 Capitalization Tests
Capitalization Test 1
Here's a fun-to-read, 20 question capitalization test. It is in multiple-choice format. The storyline follows Bruce Hand, the famous adventurer, and his blunders in Africa. It's not only great fun, it's an excellent assessment tool.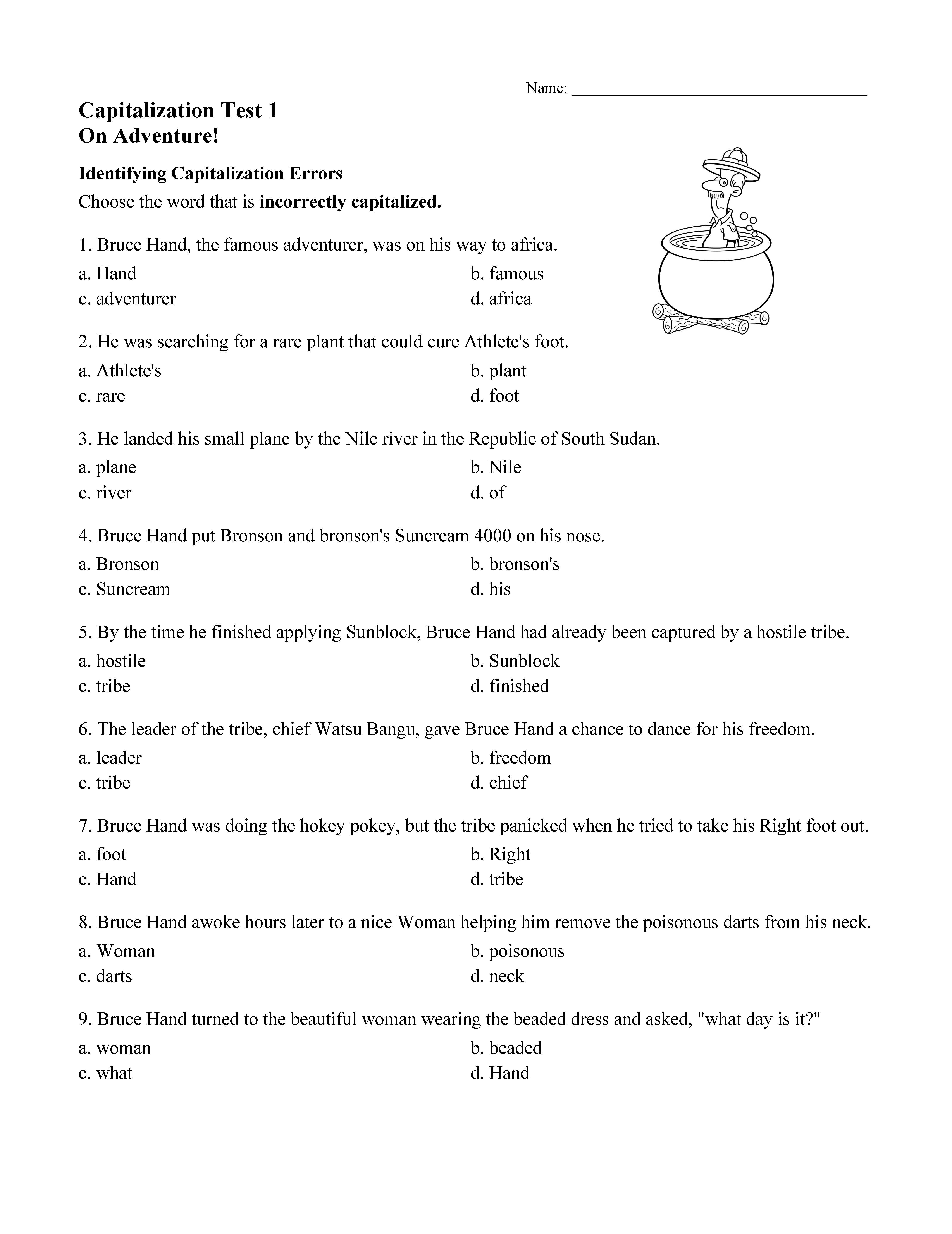 Still looking for something?
Search here.